PF Lyceum Forum — Physical Mediumship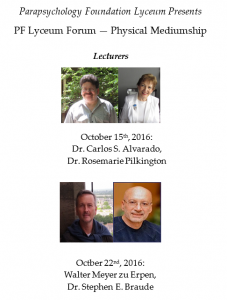 The Parapsychology Foundation Lyceum presents it's first forum online this October. Using the WizIQ.com teaching platform, the forum, Physical Mediumship, will cover research both historical and modern. Opening to registration September 29th, 2016, the Forum's WizIQ site will be available to registrants on Saturday October 8th, and will remain open for new registration until Saturday, November 14th. In the Forum site you will find not only the schedule of live presentations (and recordings later on), but PowerPoints, a reading list, supplemental materials such as articles and videos, as well as two live discussion forums, and a classroom discussion page that's always available. A certificate of completion will also be sent to all registrants after the 15th of November, 2016.
If you've attended any of the Parapsychology Foundation's online events, such as the yearly course Parapsychology Research and Education or the bi-annual PF Book Expo, you know how the WizIQ site and its virtual classroom will work. For those who are joining the PF's online events for the first time, your welcome email will contain helpful information. Regular registration is $50 and student registration is $35. To register scroll down and click on the PF Lyceum Forum icon at the bottom of the page and choose your payment option.
Scholarships are also available by messaging us through the Parapsychology Foundation Facebook Group or dropping us a note through the Customer Service page on this website (see the menu below).
The PF Lyceum online forum is structured like the face-to-face forums that took place in the Eileen J. Garrett Library back in the day: four presentations by expert lecturers and lots of time for questions and answers after each talk. But unlike the old face-to-face forums, if you can't make the live sessions, you can still register. All the live sessions will be recorded and available in the Forum's Site for later viewing. Here's the live session schedule:
Welcoming Remarks by Lisette Coly (President, Parapsychology Foundation) and Introduction to the Forum by Dr. Nancy L. Zingrone (Research Fellow, Parapsychology Foundation) at 1:00pm Eastern, Saturday, October 15th, 2016
"Physical Mediumship: A Brief Historical View" by Dr. Carlos S. Alvarado (Research Fellow, Parapsychology Foundation) at 2:00pm Eastern, Saturday, October 15th, 2016.
"The Bindelof Seances" by Dr. Rosemarie Pilkington (author of The Spirit of Dr. Bindelof: The Enigma of Séance Phenomena, Anomalist Books, 2010) at 3:30pm Eastern, Saturday, October 15th, 2016.
Discussion Forum for Live Session Attendees (Lisette Coly and Dr. Nancy L. Zingrone) at 5:00pm Eastern, Saturday, October 15th, 2016.
Opening Session (Lisette Coly, Dr. Nancy L. Zingrone) at 1:00pm Eastern, Saturday, October 22nd, 2016.
"The Researches of Thomas Glen Hamilton" by Walter Meyer zu Erpen (International Affiliate for Canada, Parapsychology Foundation) at 2:00pm Eastern, Saturday, October 22nd, 2016.
"The Felix Group" by Dr. Stephen E. Braude (Emeritus Professor, University of Maryland-Baltimore County) at 3:30pm Eastern, Saturday, October 22nd, 2016.
Discussion Forum for Live Session Attendees and Closing (Lisette Coly, Dr. Nancy L. Zingrone, Dr. Carlos S. Alvarado) at 5:00pm Eastern, Saturday, October 22nd, 2016